USD/CHF: Ending Diagonal Points Lower
Good day traders! Today let's focus on and its 4h Elliott wave pattern.
USD/CHF might have complete a higher degree correction within wave 4) this week if we consider a nice bearish reversal in the last few sessions down from 0.9830 where we were looking for a top of an ending diagonal. Notice that pair is now also well below the red diagonal trendline and retesting 0.9707 mark; a daily close below that price will confirm that bearish trend has resumed, therefore aggressive decline may be seen next week.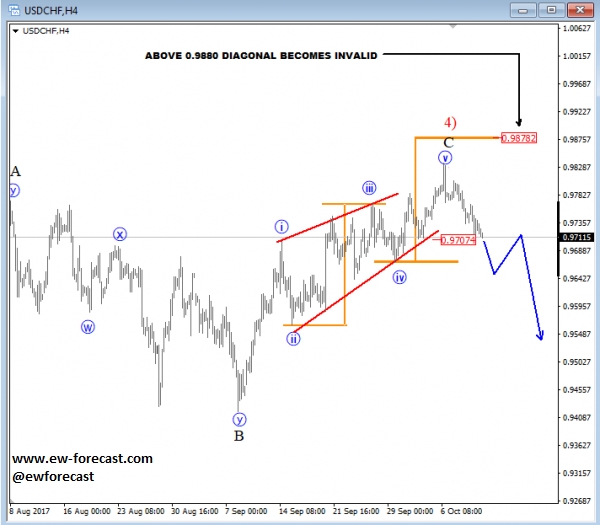 An ending diagonal is a motive wave that occurs primarily in the wave 5 position. It can also appear in wave C as part of a A-B-C correction. In all cases, they are found at the termination points of larger patterns, indicating exhaustion of the larger movement. Ending diagonals consist out of five sub-waves, with each one having three minor legs. They also take on a shape within two converging trend lines(as seen on the chart). One part that is crucial for the ending diagonal pattern is that wave one and four overlap.
Here is also an example of the ending diagonal pattern: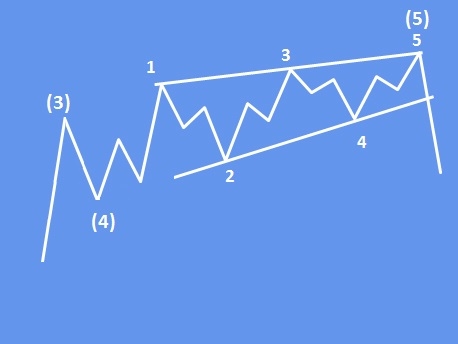 Typical Ending Diagonal Pattern
Disclosure: Please be informed that information we provide is NOT a trading recommendation or investment advice. All of our work is for educational purposes only.