Tuesday's Forex Update: EUR/NZD | Investing.com
continues to rise inside the uniform Up Channel chart pattern which was recently identified by Autochartist on the daily charts. Autochartist rates the quality of this Up Channel at the 5-bar level – which is the result of the average Initial Trend (5 bars), higher Uniformity (6 bars) and medium Clarity (5 bars). EUR/NZD is expected to rise further inside this Up Channel – in line with the earlier upward reversal from the support area highlighted below.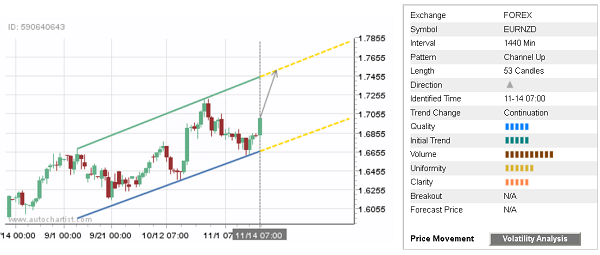 As can be seen from the daily EUR/NZD chart below, the price earlier reversed up from the strong support area lying between major support level 1.6700 (former resistance level from September and October), support trendline of the daily up channel from June and the 50% Fibonacci correction of the previous upward impulse from September. The proximity of this support area increases the probability EUR/NZD will continue to rise inside this Up Channel.