EUR/USD Lower High Today After Wedge Top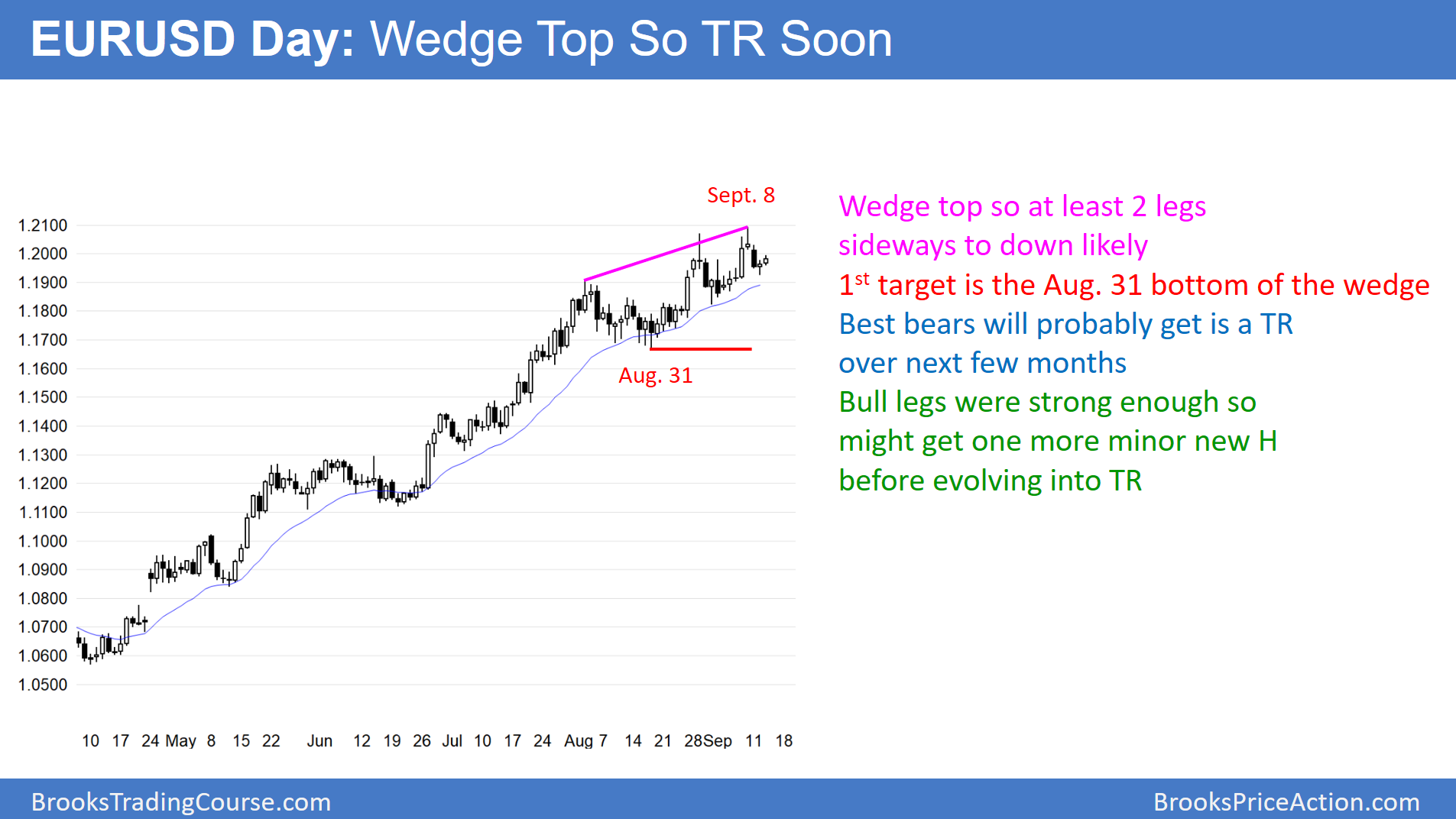 The daily Forex chart bounce overnight after Monday's 1st leg down from the wedge top. The odds are that the chart is transitioning into a trading range over the next month or two.
The EUR/USD daily Forex chart reversed down on Monday from a wedge top. The wedge has a good shape. In addition, it is at resistance on the monthly chart. Furthermore, the 7 month rally is in a tight bull channel and is therefore climactic. The 2nd and 3rd legs up in the wedge bull channel were strong. That increases the chances of 1 more minor new high before the daily chart transitions into a trading range. While the bull trend can continue much higher, these facts make a pullback likely over the next month or two.
Since the pullbacks from the 2nd and 3rd tops of the wedge lasted only a couple of days, the wedge is small. Any reversal down will therefore probably be minor. This means that the best the bears can probably get is a trading range over the next few months.
However, if there is a strong break below the August 31 bottom of the wedge, the pullback could fall for a measured move down. That would therefore be a 50% pullback. In addition, it would be a test of the top of the 2 year trading range at around 1.1600. Yet, the odds still would favor a trading range, albeit big, rather than a bear trend.
Overnight EUR/USD Forex trading
The 5 minute chart traded in a 30 pip range overnight. Therefore day traders are scalping. Since there is a wedge top on the daily chart, the overnight rally will probably form a lower high. This is because even a small reversal down from a wedge top usually has at least a small 2nd leg sideways to down. As a result, swing traders on the 5 minute chart will sell this rally, looking for a test of yesterday's low. In addition, that would be a test of the 20 day exponential moving average.